Advertisement

Who is Anna Hajare?
An ex-army man. Fought 1965 Indo-Pak War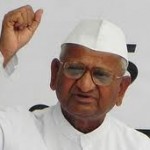 What's so special about him?
He built a village Ralegaon Siddhi in Ahamad Nagar district, Maharashtra
This village is a self-sustained model village. Energy is produced in …the village itself from solar power, biofuel and wind mills. In 1975, it used to be a poverty clad village. Now it is one of the richest village in India. It has become a model for self-sustained, eco-friendly & harmonic village.
Anna Hazare was awarded Padma Bhushan and is a known figure for his social activities.
Anna Hajare – 71 year old social activist is on fast until death, protesting against the corruption and unbiased, error-free Lokpal Bill amendments.
Now a days corruption is done in a more polished way and is not visible to the naked eye anymore. Even Corruption is going under restructuring and are finding new ways of getting away with it. In this context do you think that Anna Hazare's act will be effective on our government?
Whos supports Anna Hajare?
Baba Ramdev, Ex. IPS Kiran Bedi, Social Activist Swami Agnivesh, RTI activist Arvind Kejriwal and many more. Prominent personalities like Aamir Khan is supporting his cause.
And are you??
[poll id="5″]
The great old man is on hunger strike. Please support him. He is doing all this for us only.
Write a few Words in comment section below and share this post on you facebook, twitter and other scoial media.
Note: We (TheBack-Benchers.com) Team are Teenagers college Going guys in support of Anna Hajare, we created this post for vote and comments. Very happy to see very good response to this posts.
Due to high traffic, we are not able to give Updates to you by email, please Follow us on Facebook http://www.facebook.com/thebackbencherfb so we are able to give updates in your FB profile. Don't Forget to Share this post with you friends ask them to vote and support Anna Hajare. Thanks For reading. Jai Hind
Join our facebook page http://www.facebook.com/thebackbencherfb
Vote and support Anna Hajare Jai Hind