Advertisement

Raksha Bandhan (Rakhi) is the Festival of India.
India is a country rich of festivals. Its culture is so rich that it celebrates a festival almost every month. Moreover, people of India are so lively that they celebrate each and every festival with lot of enthusiasm. One of such festival is Rakhi or Raksha Bandhan, which reflects the sweet and sour relationship of brother and a sister.
Raksha Bandhan is celebrated every year on 'Shravan Purnima' (Full Moon Day of the Hindu month of Shravan), which generally falls in the month of August. On the auspicious day of Rakhi, sisters wake up in the morning, take bath, offer prayers to the Almighty and visit their brothers to perform the rituals of Rakhi. The ritual of Raksha Bandhan essentially includes tying of sacred thread (which is called 'Rakhi' or 'Raksha Sutra') by the sisters, on their brothers' wrist. Before tying Rakhi, the sisters would perform an aarti, apply tilak (by mixing rice grains and roli) on their brother's forehead and then offer them sweetmeat.
Rakhi 2011 : will be celebrated on 13 August 2011.
R . A . K . H . I
R : Relationship
A : Affection
K : Knitting together
H : Him (Brother) & Her (Sister)
I : Interminably
Put them all together, they spell " RAKHI". Happy Rakhi to all you brothers and sisters!!!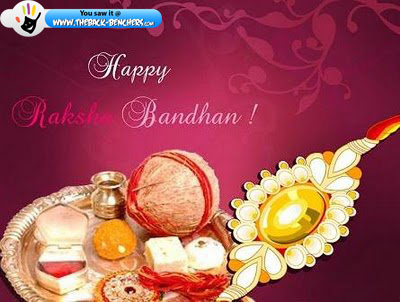 More Raksha Bandhan stuff
Rakhi Pictures, photos
Funny Raksha Bandhan, Rakhi Jokes & Funny Comments
Pics of Rakhsha Bandhan Rakhies Designs