Advertisement

30 injured in police crackdown to end Ramdev's protest
Midnight police swoop on Baba Ramdev, detention ends protest,
Please vote and Suppot Baba Ramdev
[poll id="4″]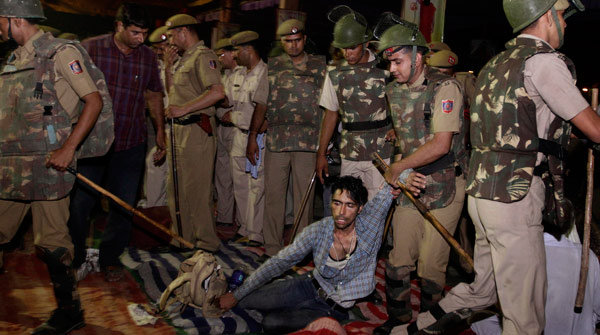 In an anti-climax to Baba Ramdev's tirade to bring back black money stashed in foreign banks, Delhi Police late on Saturday night cancelled permission for yoga camp at Ramlila ground and issued his externment order. Baba Ramdev after being asked to stay out of New Delhi's limits, appealed to his supporters not to indulge in any violence.
Section 144 was imposed in Ramlila ground amidst heavy police presence. Five additional companies of police personnel were rushed to the camp.
A large number of police personnel on Saturday night descended at Ram Lila Maidan, the venue where Baba Ramdev is on a hunger-strike demanding action on blackmoney stashed abroad.
Chaos prevailed at the spot after around 1.10 am when news came that the yoga guru may be arrested after he decided to continue with his fast following with the worsening of stand between him and the government.
Soon, Ramdev's supporters formed human chains to prevent his arrest.
Police were seen zeroing in at the stage where Ramdev was circled by a handful of supporters. However, it was not clear whether the police have arrested him.
The sudden presence of such a large number of police personnel led to a commotion as hundreds of supporters of Baba surrounded him amid speculation that he may be arrested.
Ramdev appealed to Prime Minister Manmohan Singh to allow him to be arrested in a respectful manner during daytime.
"Why I am being arrested without any information at night? I appeal to people to maintain calm…," a sweating Ramdev said to his supporters.
A section of supporters threw pots, tripods and mike stands on cops to prevent them from coming close to the stage.
Crowd dispersed from the stage after police fired teargas shells.
A police vehicle was seen entering at the site where chaos was seen, while Rapid Action Force (RAF) personnel were seen taking away some of the supporters from the site.
Banners were torn, mattresses and furniture lied all over the site. Parts of the stage also caught a minor fire that broke out during the melee.
People were seen vacating the dais and the surrounding area after tear gas enveloped the whole area.
Organisers were seen asking people not to leave the pandal and continue protest. Some of them, associated with Baba's movement, contacting their associates in respective states to protest against police action on Sunday morning.
Large number of people were leaving the spot, some were seen arguing with the policemen that why they have taken such an action when their protest was peaceful.
Bharat Swabhiman Trust chief Jaideep Arya claimed that Baba Ramdev has been arrested. However, Delhi Police refused to confirm the same. Delhi Police Commissioner BK Gupta denied that Baba Ramdev has been arrested.
"There are some security concerns. We have cancelled the permission (for the protest)," he told reporters at the site.
He said Ramdev's supporters indulged in stone throwing. Police did not use force except to use some tear gas.