Advertisement

Farhan Akhtar's Shayari in movie Zindagi Na milegi dobara Lyrics & video with English translation
Video of Shayari – Zindagi Na milegi dobara
Shayari and Translation – Zindagi Na milegi dobara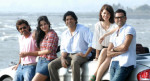 Poem 1
Pighle neelam sa behta ye sama,
neeli neeli si khamoshiyan,
na kahin hai zameen na kahin aasmaan,
sarsaraati hui tehniyaan pattiyaan,
keh raheen hai bas ek tum ho yahan,
bas main hoon,
meri saansein hain aur meri dhadkanein,
aisi gehraiyaan, aisi tanhaiyaan,
aur main… sirf main.
Apne hone par mujhko yakeen aa gaya.
Translation
The moment flows by like molten sapphire
Deep Blue silences
No Earth below
No Sky above
The rustling branches and leaves
Saying that only you are here
Only me
My breath
My heartbeat
Such Depth like this
Such Loneliness like this
And me only me
I now believe I exist
---
Poem 2
Ik baat honton tak hai jo aayi nahin
Bas ankhon say hai jhaankti
Tumse kabhi, mujhse kabhi
Kuch lafz hain woh maangti
Jinko pehanke honton tak aa jaaye woh
Aawaaz ki baahon mein baahein daalke ithlaye woh
Lekin jo yeh ik baat hai
Ahsas hi ahsas hai
Khushboo si hai jaise hawa mein tairti
Khushboo jo be-aawaaz hai
Jiska pata tumko bhi hai
Jiski khabar mujhko bhi hai
Duniya se bhi chupta nahin
Yeh jaane kaisa raaz hai
Translation
There is a matter that has almost come to my lips
This is evident in my eyes
Sometimes from you, sometimes from me
They ask for words
To take their shape and come to my lips
And to be embraced by my voice
But this matter
Is a feeling…only a feeling
Floating in air like fragrance
Fragrance becomes its voice
That you know of
That i know of
It's not hidden from the world
Don't know what kind of secret is this
---
Poem 3
Jab jab dard ka baadal chaya
Jab ghum ka saya lehraya
Jab aansoo palkon tak aya
Jab yeh tanha dil ghabraya
Humne dil ko yeh samjhaya
Dil aakhir tu kyun rota hai
Duniya mein yunhi hota hai
Yeh jo gehre sannate hain
Waqt ne sabko hi baante hain
Thoda ghum hai sabka qissa
Thodi dhoop hai sabka hissa
Aankh teri bekaar hi nam hai
Har pal ek naya mausam hai
Kyun tu aise pal khota hai
Dil aakhir tu kyun rota hai
Translation
Every time the cloud of pain loomed
A tear filled my eyes
When this lonely heart was scared
I told my heart 'Why do you cry for such reason? This happens everywhere in this world'
These dark lonely times, time has distributed them to all.
Some sadness is part of everyone's story,
Some sunshine is a part of everyone's life
Your eyes are damp for no reason
Every second is a new season
Why do you waste your time over such matters
Why do you cry I asked my heart
---
Poem 4
Dilon me tum apni betabiyan leke chal rahe ho,to zinda ho tum
Nazar me khwaabon ki bijliyan leke chal rahe ho,to zinda ho tum
Hwa ke jhokon ke jaise aazad rehno sekho
Tum ek dariya ke jaise lehron mein behna sekho
Hr ek lamhe se tum milo khole apni baahein
Hr ek pal ek nya sama dekhe nigahein
Jo apni ankhon mein hairanian leke chal rahe ho,to zinda ho tum
Dilon mein tum apni betabian leke chal rahe ho,to zinda ho tum
Translation
If you carry impatience in your heart then you are alive
If you carry dreams in your eyes then you are alive
Learn to live like the free waves of wind
Learn to flow like the sea does as waves
Receive every moment in life with open arms
Every moment is a new beginning seeing with your eyes
If you carry surprise in your eyes then you are alive
If you carry impatience in your heart then you are alive
Zindagi Na Milegi Dobara!
Life WON'T happen again!!/(you) won't get a second life