Advertisement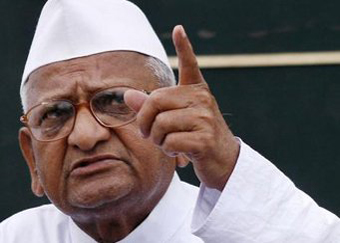 Kisan Baburao Hazare
किसन बाबुराव हजारे
Born 15 June 1937 (age 74)
Bhingar, Bombay Province, British India
Nationality Indian
Other names Anna Hazare
Kisan Baburao Hazare (born 15 June 1937), popularly known as Anna Hazare
After leading a number of nonviolent protests in Maharashtra state against corruption, Hazare started a fast unto death on 5 April 2011 to exert pressure on the government of India to enact a strong anti-corruption act as envisaged in the Jan Lokpal Bill, a law to establish a Lokpal with the power to deal with corruption in public offices. The fast led to nationwide protests in support of Hazare. The fast ended on 9 April 2011, the day after all of Hazare's demands were agreed by the government of India. The government issued a gazette notification on the formation of a joint committee (of government and civil society representatives) to draft an effective Lokpal Bill.
According to the July 2011 findings of a CNN-IBN- Hindustan Times Opinion poll, the Indian public prefers Anna Hazare to the Government of India to tackle corruption, and also see him as more trustworthy than the government. According to an Indian daily English newspaper Daily News and Analysis's annual list of top 50 most influential people for 2011, Anna Hazare is the most influential person in Mumbai
Vote and Support Anna Hazare
[poll id="5″]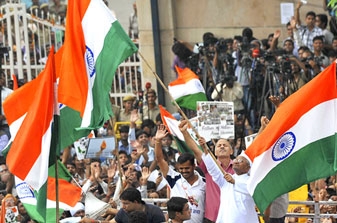 Latest Update on 19 – August -2011
Anna begins 'second freedom struggle'
There were hundreds of school children in the crowd, some who had bunked their classes to come out in support of the 74-year-old Hazare.
Latest Update on 17 – August -2011
Congratulations dear countryment. The Loksabha has passed the resolution agreeing in principal to all the three important demands of Anna Hazare. This is your first important milestone. Remember, don't relax till the bill is made law
Latest Update on 24 – August -2011
Lokpal: No consensus at all-party meet
सरकार का जवाब, अन्‍ना चाहें, तो अनशन करते रहें: केजरीवाल
Latest Update on 18 – August -2011
Anna Hazare agrees for two weeks of fasting
Latest Update on 16 – August -2011
NEW DELHI: Anna Hazare courted arrest after being detained by Delhi Police at his residence in Mayur Vihar ahead of his indefinite fast on Tuesday.
Senior officers of Delhi Police reached Anna Hazare's flat early in the morning and informed him that he could not leave his home. However, Hazare turned down the request following which he was detained.
"We have detained him as he did not budge from his position of defying prohibitory orders," police official said.
Anna in his addresses to the nation before his arrest asked his supporters not to stop the agitation. He urged the protesters to remain peaceful.
Sourcei : indiatimes and wikipedia