Advertisement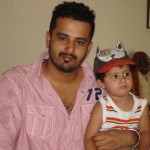 Jalandhar Punjab, April 21
"Once again a big Insult of Friendship……" "HIGH PROFILE MURDER IN JALANDHAR"…..
" Gurkirat Singh Sekhon" Was Owner of Hotel Sekhon Grand, Jalandhar is Killed by his Childhood Best Friend "Ram Simran, Prince Makkar" Councilor and the nephew of Sarbjit Singh Makkar, Akali MLA.
"ਸੱਚੀ ਸੁਣਾਵਾਂ ਮੈਂ ਸੁਣੋ ਗੱਲ ਮੇਰੀ…..ਕਦੀ ਦਿਲੋਂ ਨਾ ਕਿਸੇ ਨਾਲ ਖਾਰ ਕਰੀਏ…..ਚਲ ਦੁਸ਼ਮਣ ਵੀ ਜੇ ਘਰ ਆਵੇ ਬਾਂਹ ਫੜ ਕਦੇ ਨਾ ਬਾਹਰ ਕਰੀਏ………ਸਾਹਮਣੇ ਕਹਿ ਦਈਏ ਹੋਵੇ ਜੋ ਗੱਲ ਕੈਣੀ……….ਪਿੱਠ ਪਿੱਛੇ ਨਾ ਕਦੀ ਵੀ ਵਾਰ ਕਰੀਏ…….ਯਾਰੀ ਲਾਈ ਏ ਨਿਵੌਣੀ ਜੇ ਹੋਵੇ…..ਯਾਰੀ ਵਿਚ ਨਾ ਕਦੇ ਯਾਰ ਮਾਰ ਕਰੀਏ……."
A young city hotelier was shot dead by a nephew of the Shiromani Akali Dal (SAD) legislator from the Adampur constituency, Sarabjit Singh Makkar, in the wee hours today.
Ram Simran Singh Makkar, alias Prince, a local councillor, opened fire at Gurkirat Singh Sekhon, alias Gikky, outside Bawa Rasoi, an eating joint, in Model Town.
The police has registered a case of murder against Makkar and his accomplices under Sections 302, 34 of the IPC on the complaint of Rajbir Singh, father of the deceased.
Varun Ghumbar, owner of the eating joint, who knew both the assailant and the victim, rushed Girkirat to a private hospital, but the he died on the way.
Prince escaped from the crime site along with his three accomplices-Amardeep Singh Sachdeva, alias Sunny, an advocate, Prince Narula, a trader in electronic goods, and Jasdeep Jassu, owned of hotel Ranvir Classic.
A friend of the deceased said Gikky left his hotel, Sekhon Grand, for home in Green Avenue at 12.45 am. On the way, he noticed Prince and his friends outside the eating joint. The four were allegedly under the influence of liquor.
Gikky stopped his vehicle and walked towards them. He knew all four who had been his classmates.
Gikky was suspicious that Prince may have been behind a raid at his hotel Regent Park.
He was seen engaged in a heated argument with Prince. Eyewitnesses said Sachdeva held Gikky at gunpoint while a bullet fired by Prince pierced his back. He collapsed on the ground.
A worried Ghumbar rushed to Gikky's help. After informing Gikky's father about the incident, he took him to a private hospital where he was declared 'brought dead'.
Relatives of the victim alleged that before fleeing, Prince had threatened Ghumbar with dire consequences if he dared inform the police about the incident.
Meanwhile, Makkar said his nephew and Gikky were childhood friends and their families shared cordial ties.
"I will advise Prince and his friends to surrender and join police investigations," he said.
Punjab Pradesh Congress Committee President Capt Amarinder Singh condemned the incident.
Demanding the immediate arrest of the accused, he said that the police must not give any concessions to the guilty. He warned that police officials who try to shield him will have to face the consequences themselves.
Deputy Commissioner of Police Arun Pal Singh said the police had launched a hunt for the suspects and issued a circular to all airports to ensure they did not escape abroad.
Source: tribuneindia.com
Last words of Gurkirat sekhon…"YARR NE KITI YARR MARR ..PITH TE KITA VARR
Write Few Words in tribute of Gurkirat Singh Sekhon in Comment Section
Follow Us on Facebook http://www.facebook.com/thebackbencherfb