Advertisement

Muammar Gaddafi is dead, Libya's new leaders said, killed by fighters who overran his hometown and final bastion on Thursday. His bloodied body was stripped and displayed around the world from cellphone video.
Senior officials in the interim government, which ended his 42-year rule two months ago but had laboured to subdue thousands of diehard loyalists, said his death opened the way for a declaration of "liberation" after eight months of war.
His body was expected in the long-standing rebel stronghold of Misrata, officials said as their Western sponsors held off from confirming that Gaddafi, a self-styled king of kings whom they had lately courted after decades of enmity, was dead at 69.
After Prime Minister Mahmoud Jibril confirmed his demise, the new national flag, resurrected by rebels who forced Gaddafi from his capital Tripoli in August, filled streets and squares as jubilant crowds whooped for joy and fired in the air.
In Sirte, a one-time fishing village and Gaddafi's hometown that grandiose schemes had styled a new "capital of Africa", fighters danced, brandishing a golden pistol they said they had taken from Gaddafi.
Accounts were hazy of his final hours, which also appeared to have cost the lives of senior aides. But top officials of the National Transitional Council, including Abdel Majid Mlegta, said he had died of wounds sustained in clashes.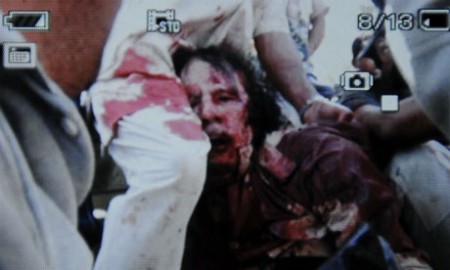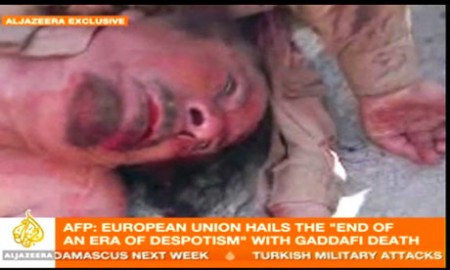 Gaddafi Death Video