Delhi Blast: Today Blast outside Delhi High Court 7 Sept 2011
Delhi: A powerful blast took place at 10:15 am this morning at the Delhi High Court at Gate no 5. Ten people have died and 50 have been been injured; six of them have been described as being in very critical condition. The injured have been taken to Ram Manohar Lohia Hospital; most have shrapnel injuries.
The Home Ministry has confirmed it was a terror attack and has issued a nation-wide alert. Union Home Minister P Chidambaram made a short statement on the blast in Parliament. He said intelligence information on possible terror attacks in Delhi had been shared with Delhi Police in July this year. He also said it was not possible at this stage to identify which terror group was responsible for the blast. But, the home minister said, forensic experts were at the blast site examining evidence, the National Investigation Agency was handling the case and that the government would ensure the perpetrators were punished. Mr Chidambaram asked people to remain united.
Police said the bomb was kept in a briefcase near a counter where those entering the court get passes made that permit entry into court. Early reports indicate that it was not a crude blast that a sophisticated explosive device was used to cause a blast of medium to high intensity. So powerful was the blast that a crater several feet deep was caused, police said. PTI quoted police sources as saying that they suspected the use of potassium nitrate in the bomb.
At gate No 5, 100 to 200 people were waiting in queue to get passes for entry into the court complex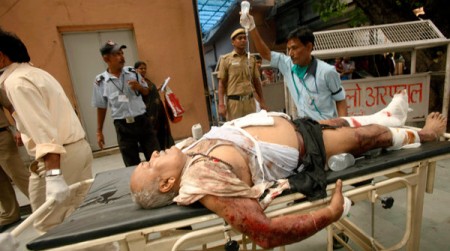 These are the emergency helpline numbers
AIIMS HELPLINE: 011-2610 1925
RML HOSPITAL HELPLINE: 011- 2374 4721/ 2336 5525
SAFDARJUNG HOSPITAL HELPLINE: 011- 2670 7444
Source: ndtv.com