Advertisement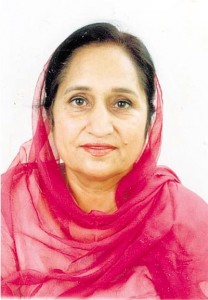 Chandigarh, May 24 (IANS) Surinder Kaur Badal, wife of Punjab Chief Minister Parkash Singh Badal, died at the Post-Graduate Institute of Medical Education and Research (PGIMER) here Tuesday after a prolonged battle with cancer, doctors said. She was 72.
Surinder Kaur, who was suffering from cancer of the throat, was admitted to the PGIMER here earlier this month in a serious condition.
She was the mother of Akali Dal president and Punjab Deputy Chief Minister Sukhbir Singh Badal.
Official sources said Surinder Kaur would be cremated Wednesday at Badal village in Muktsar district of southwest Punjab.