Advertisement

26 January 2012 Republic Day of India, Wish you very happy Republic Day of India 2012. Send free sms, wishes messages, Republic Day shayari to you friends
One Nation, One Vision, One Identity
"No Nation is Perfect, it needs to be made perfect."
Meri Pehchaan Mera India
Happy Republic Day.
~~~~ ~~~~ ~~~~ ~~~~ ~~~~ ~~~~
DESH bahkto kai balidaan sai, SWATNATRA hoai hai hum..koi puche kon ho to GRAV sai kahnge bhartiya hai ham…

****HAPPY REPUBLIC DAY.. IN ADDVANCE***
~~~~ ~~~~ ~~~~ ~~~~ ~~~~ ~~~~
Sabhi Bharatiyo ko,
Happy Republic Day ki,
Dili shubh kamnayein.
Meri blessings hai hmare India par kisi Ki najar na lage,
Ese hi faltu and fulta rhe India,
Fulon ki tarah mehakta rahe India.
Jai Hind, Jai Bharat.
Happy Republic Day.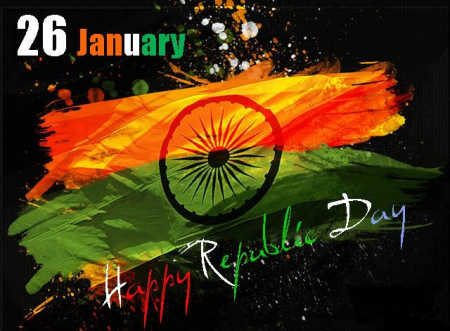 Why you give sacrifice for your girlfriend,
Vo degi duppta kafan k liye,
Mrna hai to maro Vatan ke liye,
Tiranga to milega kafan ke liye.
Wish you Happy Republic day friends.
~~~~ ~~~~ ~~~~ ~~~~ ~~~~ ~~~~
Aa yar jhuk kar salam kare un logo ko,
Jin logo ke hisse me ye mukam aata hai;
Behad khusnasib hota hai wo khoon,
Jo kaam desh ke aata hai.
Happy Republic Day 2012 to all!
~~~~ ~~~~ ~~~~ ~~~~ ~~~~ ~~~~
You still sleeping friends?
Our nation needs us,
You should be awaken now.
You are also the part of world's biggest democracy
Named India, our India.
Today is the day when you got your own constitution.
Its Indian Republic Day.
Republic Day 2012 ki hardik shubh kmnayein!!
More Republic Day stuff
Happy Republic Day Sms, 26 January 2012 sms wishes, India Republic
26 January 2012 Republic Day of India sms Republic Day shayari wishes